Let it Rain!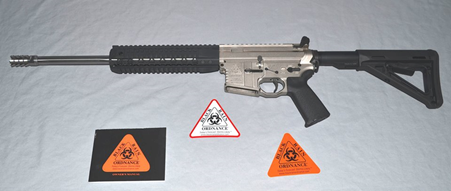 Here in Arizona, rain is always a good thing but when it's a Black Rain, it's even better!  A few months ago, TACSIM Media Group took possession of a Black Rain Ordnance's D.I gas PG-9 rifle with the NORGUARD finish.  This is by far the nicest looking rifle we've reviewed to date and the first AR that didn't start out mostly with a black finish.  But don't be fooled as I initially was, that the Black Rain Ordnance (BRO) is not just another pretty face, it has what it takes to continually put rounds down range and on target.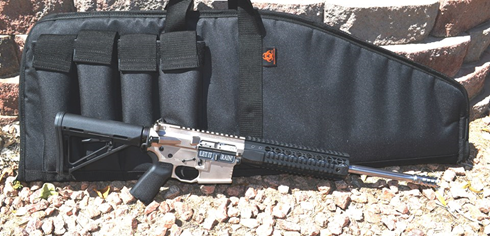 The PG-9's standard features are really great, sporting Magpul MOE stocks and grips, ASAP (Ambidextrous Sling Attachment Point) with a BRO Single Point Sling and one (30) rnd PMAG.  It also comes with BROs 9 inch quad rail and KNS mod 2 anti-roll pins installed.  The 16 inch Stainless Straight Fluted machined barrel with its ultra-unique flash hider really sets this weapon apart from the norm.  But one of the nicest things was the BRO's very impressive drop in trigger.  The only thing that it didn't come with was sights and optics!  This was not a problem since most people are picky on the choice of sights based on the optics.   My choice of sights are the Yankee Hill Machine 9680/9627 back-up sights and an EoTech 552 optic.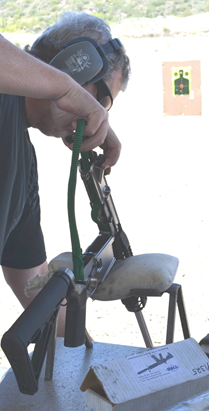 Some of the other features are:
Caliber:           .223/5.56 NATO, 1 X 8 rifling, D. I.
Gas Block:      Adj. Low Profile
Receivers:      Milled Billet Aluminum
Finish:             NORGUARD
Weight:           6 lbs 7 oz.
Length:           32.5"
Our first trip to the range was used to properly break in the barrel and get moving parts checked out for proper function.  It's the standard break-in using a cleaning solution of gunpowder and copper solvents after every shot for the first 10 rounds and then every 5 till the 40th round.  Every cleaning also included an inspection of the firing mechanisms.  For my precision rifles, I follow the same routine, but also use lapping bullets and have the barrel Cryo'd with pretty good results.  After the first 40 rounds for break-in, we put another 50 through it for some fun shooting at a 300+ metal plate.  I was extremely pleased with the accuracy of the rifle.  The barrel is very nice, but the trigger was remarkable!  It was very easy to put rounds in very close proximity of each other, and that's with using surplus 5.56 – 62 grain.  It surprised a friend who is an Italian SF jump master that we had in town on business.  He really got a kick out of shooting the PG-9.  I got another surprise when it came time to clean up after the day at the range.  The ease of cleaning the BRO PG-9 almost made me like D.I. ARs!  I literally wiped things down after I had taken it apart!  It was cleaned up and lubed in about 15 minutes and the exterior also wiped down easily too.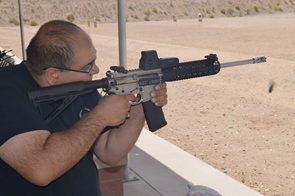 When I first saw the NORGUARD finish, my first thought was, I'd never paint this!  And that still holds true.  I would never want to paint it.  It's an amazing finish that took me a few trips to the range before I really started to appreciate it.  It's not something that I normally would think I'd like, but it definitely grows on you.  I'm normally all about the black rifle and/or camo'ing your rifles for the operational environment, so this was something new for me…..  and I liked it!  It does tend to gather a crowd of onlookers and inquisitive people.  They are taken aback once they realize that there is something different about the finish.  I wish I knew more about the finish at the time to give more of an informed answer to their questions.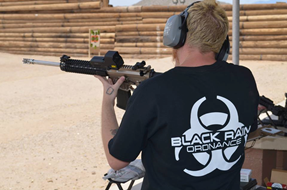 The second and third outings were certainly more enjoyable since I didn't have to continually clean the barrel and inspect parts and just put rounds down range.  It's very therapeutic!  I had my minion helpers, Hernaldo and Paul, who are always ready to squeeze some triggers and help me put more rounds through our test rifles.  I often let people at the range squeeze a few rounds through a weapon that they are really interested in, and shooting the PG-9 only made them want one more!  They were all very impressed with how it shot.  This rifle has so much appeal that at one time I think I had six people around me asking questions about it.  Not bad considering I was down at one end of the range.
It seems that the looks of the rifle really catches peoples' eye.  Some were wondering what the flash hider was.  It's aggressive design and look is very distinctive.  Others were wondering if it was a different caliber given the extremely nice barrel, but almost all of them had nice comments on the NORGUARD finish.  It really is something different.  The people that took up the offer to shoot the rifle (most of them did) said that they really liked the feel of the trigger and weight and balance of the rifle.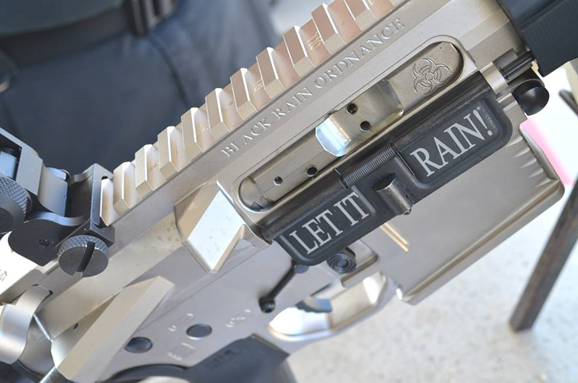 I was initially very impressed with the Black Rain Ordnance PG-9 rifle design and all the features and attention to detail that are included in the build.  I was just out of my comfort zone when it came to the finish.  I have to say, that after only a few trips out to the range, I have changed my zone of comfort to include a finish other than black or coated ARs.  I have also found that the feel of the rifle is very comfortable because of its weight and balance.  I think it may have been said before, but there's nothing better than a good rain.  So….  Let it Rain!